Hotel Info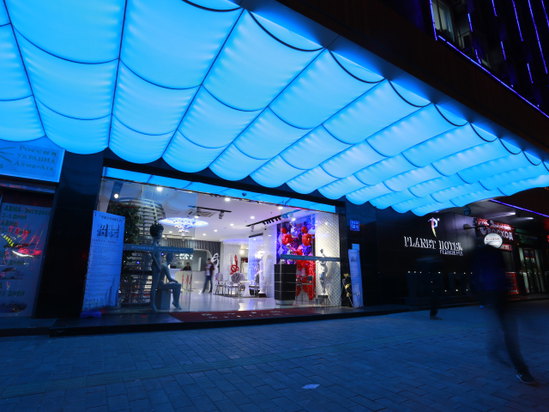 Guangzhou Planet Hotel
is located in Zhanqian Road, Liwan District, Guangzhou City. It is strategically located with various professional markets and convenient transportation. It is a distribution center for domestic fashion and accessories, as well as a place of choice for Chinese and foreign businessmen.
Guangzhou Planet Hotel
was founded by Mr. Marc Wang, a Chinese from Canada, the country of maple leaves. In order to adapt to the development of the times, he brought new foreign ideas back to China, and is committed to creating new concept hotels in the region. Mr. Marc Wang regards the universe, planet, space-time, future and other elements as the hotel's creative soul. He takes human exploration of space, knowledge, and interpretation of mysteries as the hotel's spiritual pursuit. It integrates the universe and other elements, and the hotel with the theme of starry sky comes into being Raw.
The design concept of
Guangzhou Planet Hotel
is stylish and elegant, dreamy future, crossing time and space, leading the tide; unique style, based on the gold, wood, water, fire, Saturn in the universe as the keynote, and combining the five elements of China s numerology, clever between the two Integration and complement each other. The color of the hotel room is closely related to the theme, which is orderly, flexible and pleasing. The use of color is pleasing to the eye, while the use of the elements of the five elements is clear in texture, bright in structure, and uneven in graphics.
Guangzhou Planet Hotel
is a boutique product in the center of the hotel. The comfortable environment, creative space, and warm and romantic atmosphere will make you have a lasting and fragrant mood experience, which will make you deeply impressed by your stay at this hotel. Add a more charming wave to your memory.